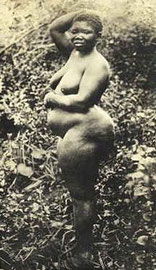 L'accumulo di grasso è responsabile di resistenza all'insulina. Tale binomio "accumulo di grasso-resistenza insulinica" ha configurato la figura del "genotipo risparmiatore" (thrifty genotype), ossia un individuo capace di accumulare grasso anche in presenza di minime quantità di glucosio.
Questo è valso anche nel paleolitico, allorquando ci siamo salvati dalla possibile conseguenza del diabete per due motivi: 
1. la presenza di una costante attività motoria in quelle popolazioni (si pensi al solo nomadismo), che faceva sì che il grasso accumulato fosse di tipo sottocutaneo, e non viscerale come oggi, e manteneva allo stesso tempo la massa muscolare;
2. i carboidrati alimentari scarseggiavano; la dieta era un continuo alternarsi di lunghi semidigiuni e abbondanti pasti carnivori, una ciclicità nota con il nome di "feast and famine" (festino e carestia).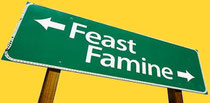 Oggi che gli zuccheri sono arrivati in maniera prepotente, il nostro genotipo è sempre risparmiatore ma noi siamo diventati stanziali e sedentari. Questo ha comportato perdita di massa magra a vantaggio di un accumulo di grasso viscerale, con la stessa resistenza insulinica del genotipo risparmiatore del paleolitico che però stavolta ha dovuto fare i conti con l'ondata di carboidrati attuale. Il risultato dell'impatto è stato inevitabile: diabete e Sindrome metabolica.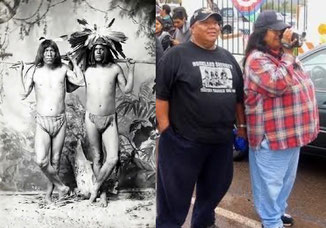 La chiave di tutto è stata dunque la componente muscolare. Questo significa che la riduzione delle calorie assunte è sicuramente importante ma non assicura la conservazione della massa muscolare, necessaria per interrompere il circolo vizioso della resistenza all'insulina; occorre la dissipazione motoria, soprattutto nei soggetti più avanti con l'età.
L'espressione di un tale disadattamento metabolico si ritrova tra le popolazioni che vivono nelle zone calde. L'esempio classico sono gli indiani Pima, tribù del deserto dell'Arizona che sussisteva di caccia e lavoro nei campi fino alla sottomissione da parte degli americani. Assoggettati alla dieta occidentale e alla sospensione della loro tradizionale attività fisica hanno sviluppato obesità e diabete, però non ipertensione perché già adattati al consumo di sale.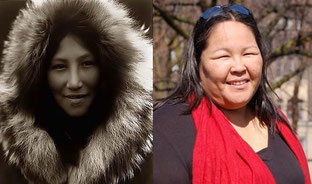 Ma se da un lato ci sono i genotipi risparmiatori che per smaltire il carico calorico richiedono attività fisica, alcune etnie (poche) sono invece riuscite a sviluppare una via alternativa all'accumulo, ossia la dispersione termogenica.
È il caso delle popolazioni che vivono in habitat freddi, provviste di meccanismi per dissipare l'eccesso di calorie sotto forma di calore. Ne sono un esempio gli Evenki, tribù subartica siberiana di cacciatori di renne. Una volta convertiti all'alimentazione moderna hanno preso ad accumulare grasso, che però non conferisce loro insulino-resistenza ma protezione dal freddo. Inoltre proprio per questo motivo non sviluppano diabete ma solo ipertensione per via dell'eccesso di sale del nuovo regime alimentare.
BIBLIOGRAFIA
1. Neel JV, Diabetes Mellitus: a "thrifty" genotype rendered detrimental by "progress"?, Am Journ Hum Genet, 14, 353-362, 1962.
2. Eaton SB, Where's the beef? Evolution, body composition, and insulin resistance,1999.
3. Bennett PH, Type 2 diabetes among the Pima Indians of Arizona: An epidemic attributable to environmental change? Nutr Rev, 57 (5 Pt 2), S51-4, 1999.
5. Knowler WC et al, Diabetes Mellitus in the Pima Indians: Incidence, Risk Factors and Pathogenesis, Diabetes/metabolism Rev, 6, 1-27, 1990.
6. Swinbum BA, Boyce VL, Bergman RN, Howard BV, Bogardus C, Deterioration in carbohydrate metabolism and lipoprotein changes induced by modem, high fat diet in Pima Indians and Caucasians, J Clin Endocr and Metab,73, 156-165, 1991.
7. Boyce VL, Swinburn BA, The traditional Pima Indian diet. Composition and adaptation for use in a dietary intervention study, Diabetes Care, 16 (1), 369-371, 1993.
8. Kriska AM et al, The association of physical activity with obesity, fat distribution and glucose intolerance in Pima Indians, Diabetologia, 36,863-869, 1993.
9. Parks JH, Waskow E, Diabetes among the Pima Indians of Arizona, Arizona Med, 18, 99-106, 1961.
10. Aronoff SL,Bennett PH, Gorden P, Rushforth N, Miller M, Unexplained hyperinsulinemia in normal and 'prediabetic' Pima Indians compared with normal Caucasians, Diabetes 26,827-840, 1977.
11. Knowler WC et al, Obesity in the Pima Indians: Its Magnitude and Relationship with Diabetes, Am J Clin Nutr, 53 (1543), S51, 1991.
12. Knowler WC, Saad MF, Pettitt DJ, Nelson RG, Bennett PH, Determinants of diabetes mellitus in the Pima Indians, Diabetes Care, 16, Suppl 1, 216227, 1993.
13. Snodgrass JJ et al, The emergence of obesity among indigenous Siberians, J Physiol Anthropol, 25 (1), 75-84, 2006.
14. Snodgrass JJ et al, The influence of basal metabolic rate on blood pressure among indigenous Siberians, Am J Phys Anthropol, 137(2):145-55, 2008.
15. Snodgrass JJ et al, Adaptive dimensions of health research among indigenous Siberians, Am J Hum Biol, 19 (2), 165-80, 2007.
16. Steegmann AT Jr, Human cold adaptation: an unfinished agenda, Am J Hum Biol,19 (2), 218-227, 2007.
17. Hassi J et al, Impacts of cold climate on human heat balance, performance and health in circumpolar areas, Int J Circumpolar Health,  64 (5), 459-467, 2005.
18. Kamboh MI et al, Population distributions of APOE, APOH, and APOA4 polymorphisms and their relationships with quantitative plasma lipid levels among the Evenki herders of Siberia, Hum Biol,  68 (2), 231-243, 1996.
19. Galloway VA et al, Basal metabolic adaptation of the Evenki reindeer herders of Central Siberia, Am J Hum Biol,  12 (1), 75-87, 2000.
20. Leonard WR et al, Nutrition, thyroid function and basal metabolism of the Evenki of central Siberia, Int J Circumpolar Health, 58 (4), 281-295, 1999.
21. Agadzhanian NA, Ecologic and physiologic features of the adaptive reactions of the native and foreign populations of Evenki, Fiziol Cheloveka, 21 (3), 106-115, 1995.